UPDATE: 6 p.m.
Wind and weather patterns continue to be closely monitored by Central Okanagan Emergency, local fire crews and BC Wildfire.
Residents of Smith Creek and Glenrosa will see an increase in fire crews in their neighbourhoods on Tuesday evening.
Given the increased fire behaviour additional ground support resources are being redirected to the southwest corner of the McDougall Creek blaze. Helicopters will continue to tamper fire flare-ups and approximately 40 structural personnel will be patrolling for new spot fires north of Glenrosa. Winds from the north to northwest could gust up to 40 km/hr and pose a potential risk of the fire spotting south into the Powers Creek drainage.
Increased fire behaviour is being observed in the southwest corner of the McDougall Creek wildfire (K52767), adjacent to the City of West Kelowna. pic.twitter.com/P8MQJLXM99

— BC Wildfire Service (@BCGovFireInfo) August 29, 2023
_____
UPDATE 2:57 p.m.
An evacuation alert has been extended to include all remaining properties north of Highway 97 within IR#9 as well as 1979 Old Okanagan Highway.
UPDATE 2:22 p.m.
An evacuation alert has been expanded to include all of West Kelowna's Westbank and Glenrosa neighbourhoods because of increased winds and fire activity.
This alert now includes properties north of Highway 97 from Highway 97C to Old Okanagan Highway, and properties North of Dobbin Road. Residents living in the area must be ready with a go-bag at a moment's notice.
An increased fire prescene will be in the area as 33 additional firetrucks from Peachland to Armstrong are joining BC Wildfire Services.
The increased fire activity is occurring at the southwest flank of the fire. Winds are reaching 40 km/h, causing a potential risk of fire spotting south into the Powers Creek drainage.
Because of this, all aerial and ground crews are being transported to this area of the fire. Helicopters are going to bucket the areas where flare ups occur while around 40 structure protection personnel are patrolling the area north of Glenrosa for spot fires.
A 400-hectare planned ignition was also set to take place on the west flank at 1 p.m. It's unknown at this time if its ongoing or postponed because of the increased fire activity.
Over the next three days, crews have the goal to extinguish all hot spots close to properties.
There is a 40-70 per cent chance of rain in the forecast Tuesday night into Wednesday with a risk of thunderstorms, according to Environment Canada.
Original
After igniting two weeks ago, the McDougall Creek wildfire continues to burn in West Kelowna.
While it has improved in some areas, it still remains very active, especially in the West Kelowna Estates area.
In total, the blaze sits at 12,635 hectares. A small percentage of that number comes from multiple planned ignitions done safely by BC Wildfire Services in the last week. Crews plan on executing more planned ignitions in the coming days as it helps set containment lines and remove unburnt fuel.
As crews continue to battle the blaze, many residents are still now allowed to go home as they remain on evacuation order. Over the course of the last week, more than 2,200 residents living just north of Highway 97 got to head home as evacuation orders were downgraded to alerts. Those people must have a go-bag at the ready in case fire activity increases in the area. All evacuation orders and alerts can be seen on the Central Okanagan Emergency Operations website.
The Regional District of the Central Okanagan (RDCO) and the West Kelowna Fire Department are preparing and executing a well-planned safe return home and recovery operation, which may include lot-by-lot re-entry for residents in the area. In the hills above West Kelowna, essential fire suppression is also required, affecting residents and when they will return home.
Some of the factors involved when getting residents home are: ensuring that fires are extinguished in your neighbourhood; debris must be out of the way; travel to and from your home must be safe, including wildfire crews no longer requiring access to your neighbourhood; utilities must be safely reinstated, such as power, gas and water; and weather continues to play a significant factor in fire suppression.
On Tuesday, Aug. 29, EOC announced more evacuation orders have been downgraded to alerts in the West Kelowna Estates area. Residents of the following properties can now go home:
BEAR CREEK RD – ONLY 1256, 1266, 1291, 1301, 1321, 1370, 1382, 1385, 1386, 1411, 1423, 1435;

BLACKWOOD DR;

BOWES RD;

GRIFFITHS PL;

GUEST RD;

KLEIN RD;

LLOYD JONES DR;

MCNAUGHTON RD – ONLY 1534, 1544, 1564, 1574;

MCPHAIL CRT;

PARKINSON RD;

PETTMAN RD;

SCOTT CRES;

SHALERIDGE PL;

VALOIS CRT;

VANCOUVER RD;

WEST KELOWNA RD;

WESTLAKE RD.
These residents must still be ready at a moment's notice in case fire activity increases.
Many road repairs will also have to take place as well as debris removed that includes burnt street signs and charred power poles. The fire impacted around 1,200 BC Hydro customers. Crews have restored power to nearly 70 per cent of homes affected. They have replaced 40 power poles and have 150 holes dug in preparation as they work down the line, as well 12 spans of wires of been restrung.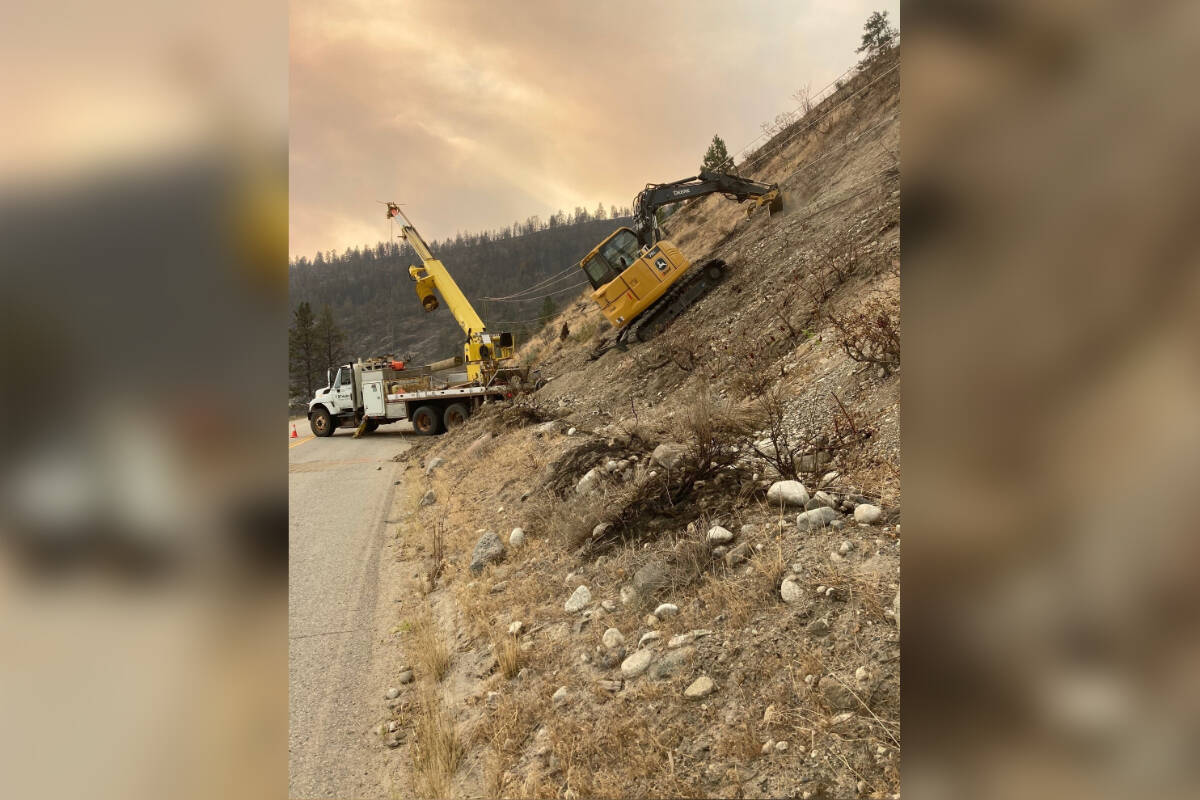 The wildfire caused damage to 27 kilometres of power lines, 359 poles and 66 other pieces of equipment that are all being replaced. Additional workers and resources are on the way to continue the process quickly and effectively.
In a regional update on Monday, Aug. 28, the total number of properties with significant damage to full structure loss in West Kelowna went up from 67 to 69. There are no additional reported changes to structures in Westbank First Nation. Additional site assessments have been completed, updating property numbers having significant to full loss, RDCO and EOC director Sally Ginter confirmed in the press conference.
Residents who suffered significant property damage or full structure loss have been contacted by EOC.
It was also confirmed on Monday that the Multi-Sport Centre, Johnson Bentley Memorial Aquatic Centre, Jim Lind Arena and Royal LePage Place Arena have all reopened to the public.
Additionally, the students at Rose Valley and Mar Jok Elementary had their dreams of an extended summer crushed as the school will now open on time on Tuesday, Sept. 5 as it was downgraded from evacuation order to evacuation alert.
For all homes under evacuation alert, garbage and recycling pick up has resumed but yard waste is not being collected yet. The Westside Transfer Station on Asquith Road is also open during its regular hours but isn't accepting yard waste, clean wood or burnt debris at this time.
The forecast is favourable for the blaze as well as the Central Okanagan has a 70 per cent chance of rain on Wednesday, Aug. 30.
The McDougall Creek wildfire continues to remain out of control. It is currently one of 11 wildfires of note and one of 402 active wildfires in the province.
---
@cunninghamjordy
jordy.cunningham@kelownacapnews.com
Like us on Facebook and follow us on Twitter and subscribe to our daily and subscribe to our daily newsletter.