Kelowna residents watched as a large plume of smoke started to quickly rise in the hills toward the South Okanagan, Tuesday night.
The cloud of smoke first seemed to appear just before 7 p.m. and by 7:20 p.m. was highly visible.
Kamloops Fire Centre is reporting the blaze burning southwest of Keremeos is causing smoke and flames in that region. The smoke seen rising to the south of Kelowna is coming from the Crater Creek wildfire.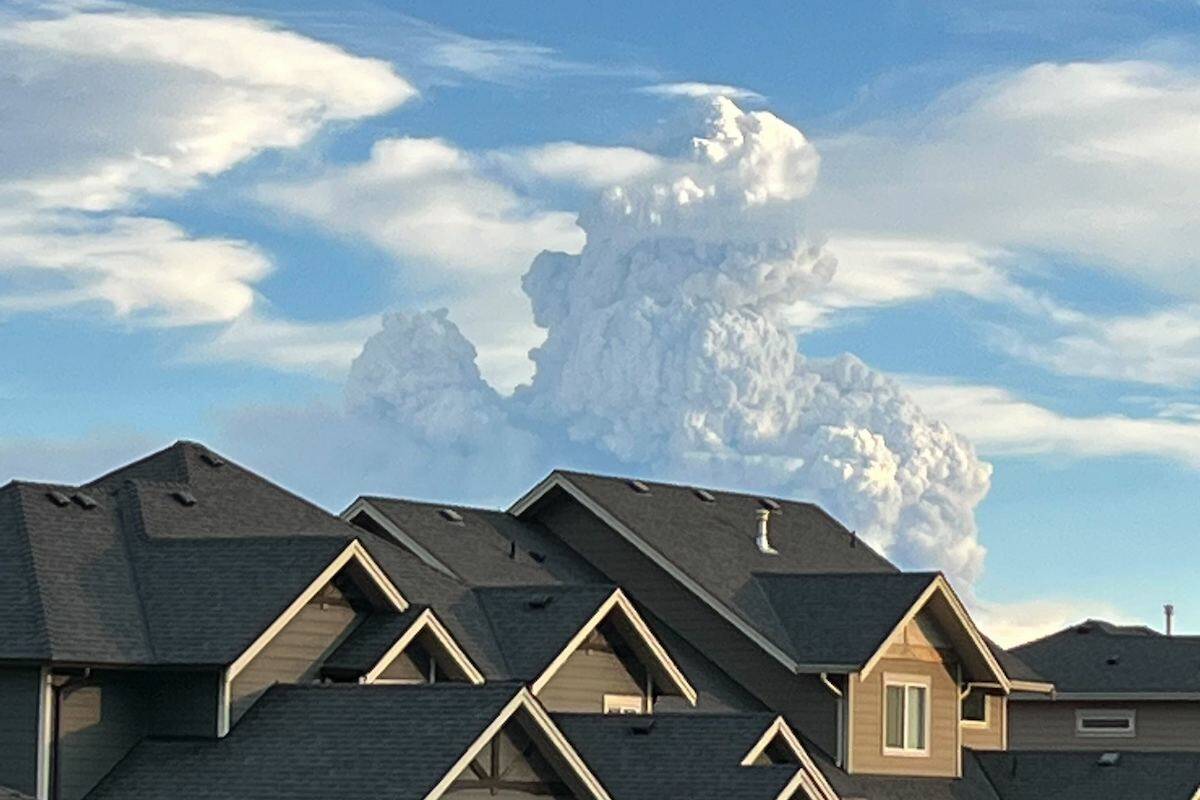 The Crater Creek wildfire is estimated to be 697 hectares and also burning in the Similkameen area is the Gillanders Creek wildfire which is estimated to be 480 hectares in size. These fires are burning in steep and dangerous terrain, challenging response efforts and posing a significant risk to responder safety on the ground.
"Responder safety remains the top priority of the BC Wildfire Service. Due to the hazard posed by the very steep terrain at this location, crews assigned to this fire are working only where it is safe to do so, and a modified response approach will be taken," stated the wildfire service.
The Regional District of the Okanagan Similkameen is issuing an evacuation alert for Electoral Area "B" and Electoral Area "G" along the Ashnola River in the Cathedral Provincial Park including the Cathedral Lakes Lodge and in the Snowy Protected Area, due to the wildfires.
Yesterday, 10 personnel were on site of the Crater Creek wildfire supported by three helicopters working the north flank of the blaze. Today there is heavy equipment on site along with two helicopters bucketing.
The following properties are on alert:
1655 ASHNOLA RD
1609 EWART CREEK RD
1612 EWART CREEK RD
1617 EWART CREEK RD
1621 EWART CREEK RD
2211 EWART CREEK RD
DISTRICT LOT 2200S
SIMILKAMEEN DIV OF YALE LAND DISTRICT DISTRICT LOT 2391S
SIMILKAMEEN DIV OF YALE LAND DISTRICT DISTRICT LOT 2864S
SIMILKAMEEN DIV OF YALE LAND DISTRICT DISTRICT LOT 3235S
SIMILKAMEEN DIV OF YALE LAND DISTRICT DISTRICT LOT 3236S
SIMILKAMEEN DIV OF YALE LAND DISTRICT SIMILKAMEEN DIV OF YALE LAND DISTRICT
RANGER STATION - CATHEDRAL LAKES PARK