The eighth-generation Corvette, launched for 2020, brought the biggest change in the nameplate's history: The engine was moved behind the cockpit.
The arrival of the 2024 E-Ray hybrid later this year shows there is indeed a future for the Corvette in an electrified world. And that's even more revolutionary.
Oh, and there's all-wheel-drive. That alone would be news enough.
The combination of a V-8 engine and a front-mounted electric motor makes for a high-performance machine that treads into the world of exotic supercars. There are few competitors other than the – gasp – McLaren Artura and the discontinued Acura NSX.
The E-Ray's hybrid system could provide some fuel savings, but let's not kid ourselves: The electric assist is about increasing driving thrills.
The looks are thrilling, too, as the E-Ray takes after the recently launched Corvette Z06. Both are wider (by nine centimetres) than the base Sting Ray and the front end has much more aggression. The E-Ray is available as a coupe with a removable roof panel or as a convertible with an automatic folding top.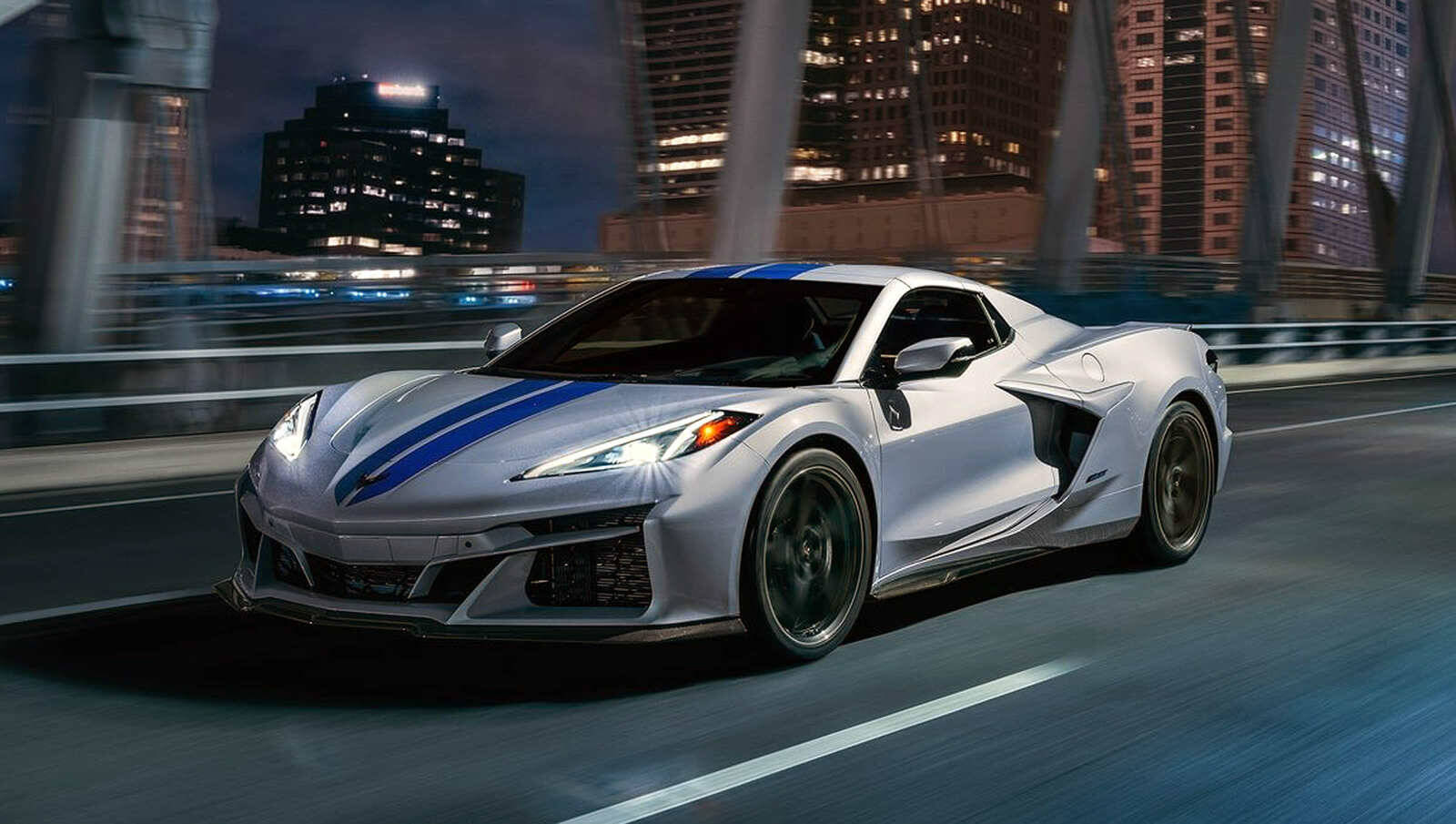 Aside from instrumentation specific to the hybrid function — showing output and efficiency — the command-centre-style interior is the same as other Corvettes. The steering wheel is flat on the top and bottom and the infotainment screen is angled toward the driver.
Further isolating the driver from the passenger is a sloping ridge between the seats with buttons and switches for the climate control.
The E-Ray has a 6.2-litre V-8 that produces 495 horsepower and 470 pound-feet of torque. An eight-speed paddle-shift transmission directs power to the rear wheels.
The electric motor driving the front wheels generates 160 horsepower and 125 pound-feet. Net output is 655 horsepower, which is just shy of the Corvette Z06's 670.
According to Chevrolet, the E-Ray can hit 60 mph (96 km/h) from rest in about 2.5 seconds. The quarter mile is covered in 10.5 seconds, making it the quickest Corvette ever, according to Chevrolet.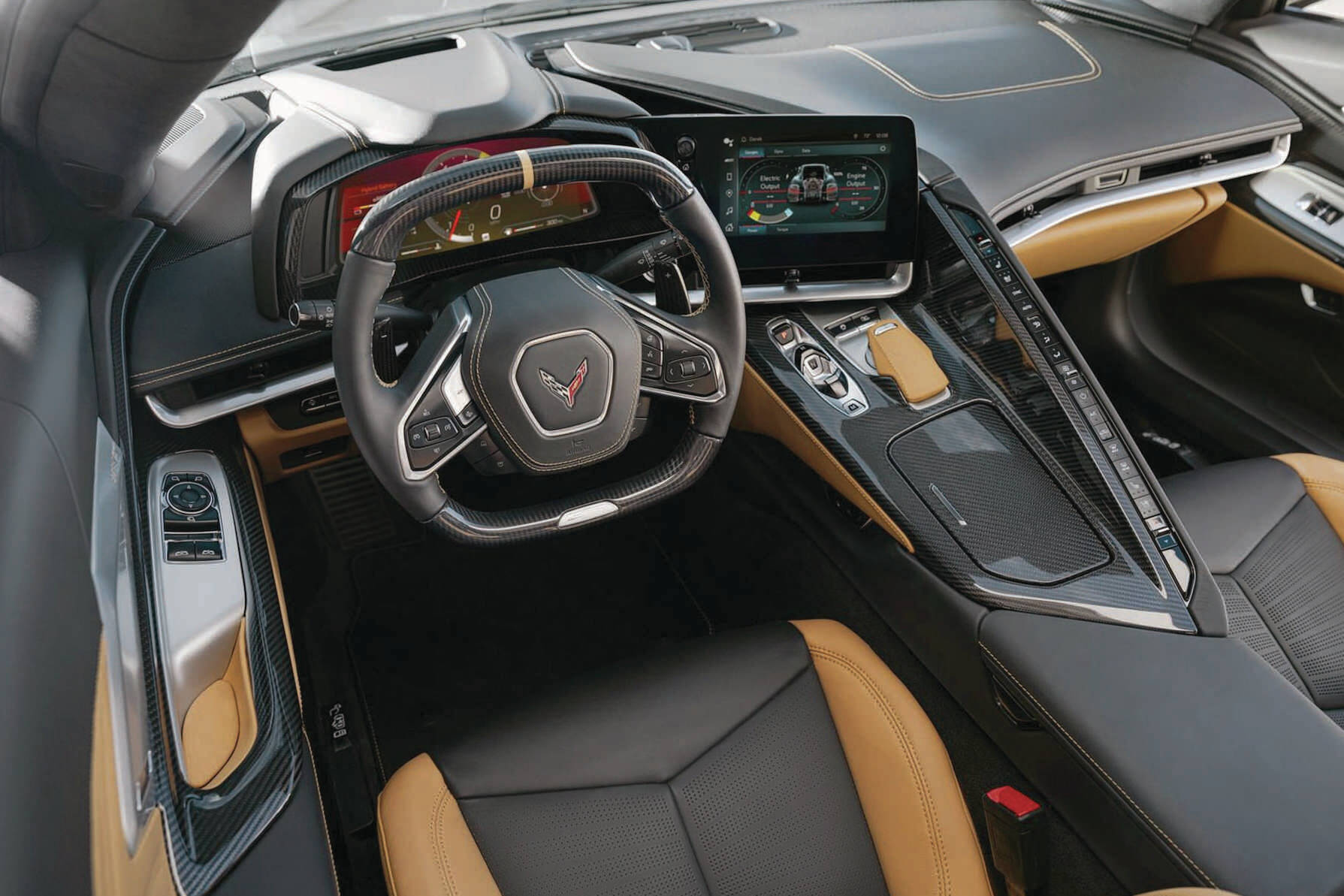 The reason, even though the E-Ray makes less peak power than the Z06, is the additional traction provided by the front tires and the torque fill from the electric motor at lower engine speeds to drive them. The E-Ray will be much peppier at lower revs around town than the Z06, which thrives at higher engine speeds: it has a lofty 8,600 rpm redline.
The E-Ray can operate exclusively in electric mode for short distances at speeds up to 45 mph (72 km/h). Past that point, or when the motor's small 1.9-kilowatt-hour battery pack reaches a minimum level, the V-8 engages. The battery is refilled through regenerative braking that occurs during regular driving.
For reduced fuel consumption at steady cruising speeds on a flat road (minimum engine load), the V-8 can shut down four cylinders.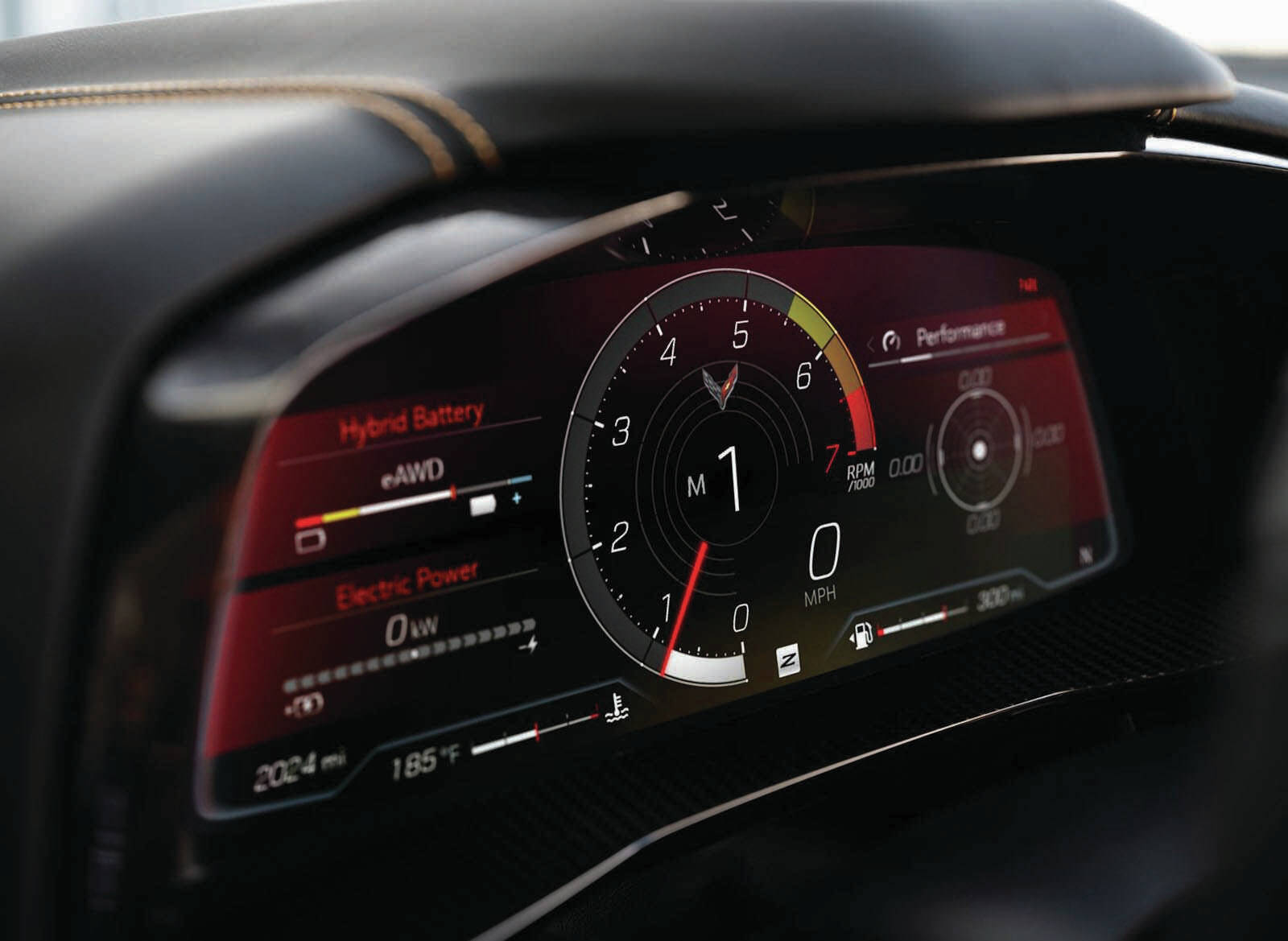 Official fuel-consumption numbers are not yet available, but the E-Ray's hybrid system should be worth a slight improvement over the base Corvette's combined city/highway rating of 12.7 l/100 km. But only slight. The E-Ray clocks in with some 400-plus pounds (180-plus kilograms) of extra heft, base weight to base weight.
The degree of electric-motor assist depends on the drive mode selected: Tour, Sport, Track and Weather. Drivers can configure preferences for steering, brakes, suspension and throttle sensitivity with My Mode and Z-Mode functions.
E-Ray pricing, including destination fees, starts at $128,800 in Canada. That's a good chunk, but the hybrid 'Vette is about $1,400 less than the base Z06 and about $95,000 less than the base NSX was. The McLaren is more than double.
The E-Ray has to be viewed as relative bargain, then, made better because the base price includes Brembo-brand carbon-ceramic brakes, adaptable suspension (magnetic ride control), Michelin Pilot Sport performance tires (20 inches in front and 21 inches in back) and a lightweight (and pricey) auxiliary 12-volt lithium-ion battery.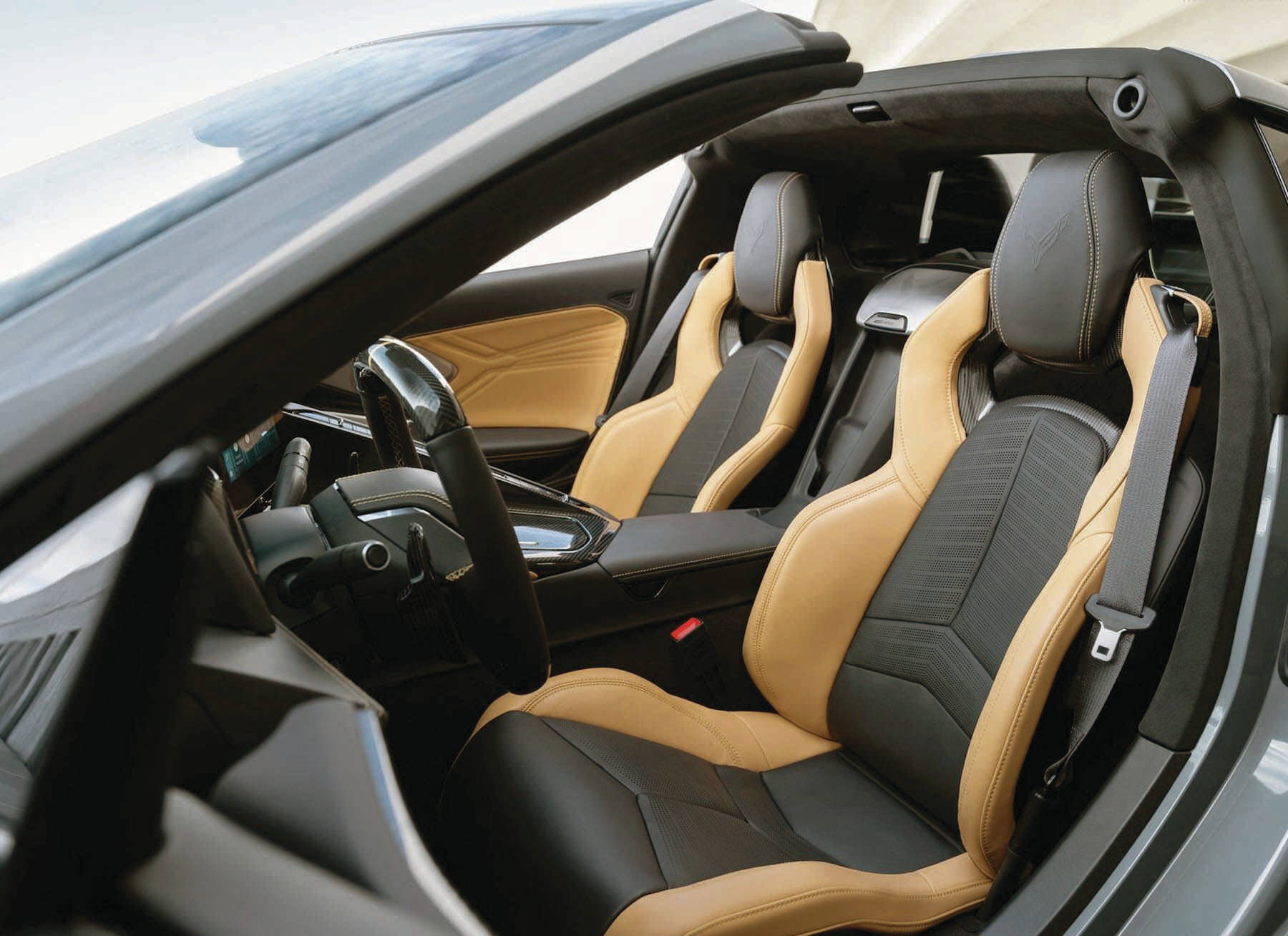 Standard active-safety technologies include forward collision alert, automatic emergency braking and lane-keeping assist.
Notable options include carbon-fibre ground-effects trim and carbon-fibre wheels. Buyers can spec the interior with unique carbon-fibre embellishments and premium seat coverings available in seven different colours.
Electric assist and all-wheel-drive set the E-Ray apart from the base Corvette, itself the most radical departure from previous generations.
The result is an advanced and highly capable car that's actually a bargain for what it does: It's a car that's in the realm of hybrid exotics costing far more.
It also sets up the Corvette for a day far down the road when the V-8's roar is silenced.
What you should know: 2024 Chevrolet Corvette E-Ray
Type: All-wheel-drive midengine sports car
Engine (h.p.): 6.2-litre V-8 plus front electric motor (655, net)
Transmission: Eight-speed paddle-shift automatic
Market position: The Corvette is General Motors' most iconic nameplate and is the only mass-produced two-seat sports car from an automaker in North America. The E-Ray represents the first step in an eventual shift to a Corvette future without internal combustion.
Points: A staggering performance bargain. • The styling is unnecessarily busy. • Interior is well laid out for drivers but the passengers are so detached they might feel like cargo. • The hybrid system provides plenty of thrust and complete silence when operating in EV mode. • Any fuel-economy improvement is likely to be minor as hybrid system is intended to make a performance statement. • Forthcoming all-electric Corvette is on the drawing board.
Active safety: Blind-spot warning with cross-traffic backup alert (std.); active cruise control (std.); emergency braking (std.); inattentive-driver alert (n.a.); lane-keeping assist (std.); pedestrian warning (std.); automatic high beams (std.)
l/100 km (city/hwy): (n.a.)
Base price (incl. destination): $128,800
BY COMPARISON
McLaren Artura
Base price: $280,000
Mid-engine plug-in hybrid's twin-turbo V-6 plus electric motor makes 671 h.p.
Lexus LC 500h
Base price: $128,600
A 3.5-litre V-6 plus two electric motors combine to produce 354 horsepower.
Porsche 911 Turbo S hybrid
Base price: n.a.
Future 2024 AWD model expected to make 700-plus horsepower.
– written by Malcom Gunn, Managing Partner at Wheelbase Media
If you're interested in new or used vehicles, be sure to visit TodaysDrive.com to find your dream car today! Like us on Facebook and follow us on Instagram