The familiar Chevrolet Blazer name, which was revived for 2020, will soon become more visible with the 2024 electric model, which Chevrolet expected to make available, well, about now, actually.
It joins the Chevrolet Silverado EV pickup and the compact Equinox EV utility vehicle, also slated to arrive as 2024 models.
General Motors' Ultium platform is found in all three, plus electric vehicles from GMC and Cadillac. The Ultium design incorporates various battery packs for each and the placement of front, rear or front and rear electric motors.
The Ultium platform frees up GM to create unique signature exterior and interior shapes for each division's EVs, unencumbered by considerations for functioning front grilles and space for drivetrains necessary for internal-combustion vehicles.
For the midsize/five-passenger Blazer EV, the prominent front-end shape does include a type of grille, but it's mostly for aesthetics. The rest of the bodywork shares nothing — as in zero — with the gasoline Blazer, which remains in production.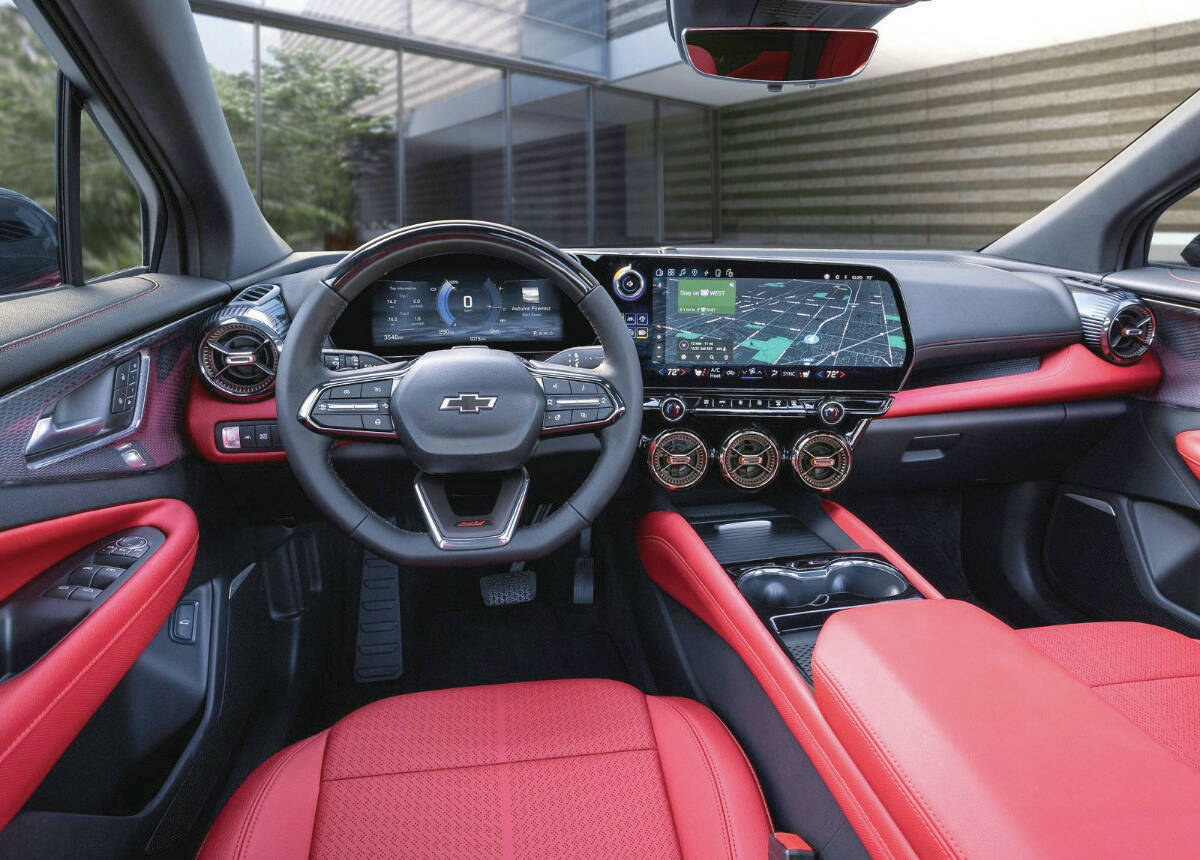 The interior's focal points include a 17.7-inch touch-screen and an 11.1-inch driver-information display. Rear-seat passengers will be treated to a flat floor and a spacious rear-seat area that's accessed through generously sized doors.
Chevrolet hasn't provided much in the way of specs, but it appears the Blazer EV has a bit less cargo length behind the rear seat than the internal-combustion models, and likely less overall volume owing to the EV's lower roofline. There's also no storage spot beneath the hood — commonly called a frunk — for smaller items that's frequently found in other EVs, such as the Ford Mustang Mach-E.
The base front-wheel-drive 1LT, which lists for $54,000 including destination charges, offers a 395-kilometre maximum range, while the next-in-line 2LT (starting at $58,800) has a maximum range of about 470 kilometres. It's available in front- or all-wheel-drive.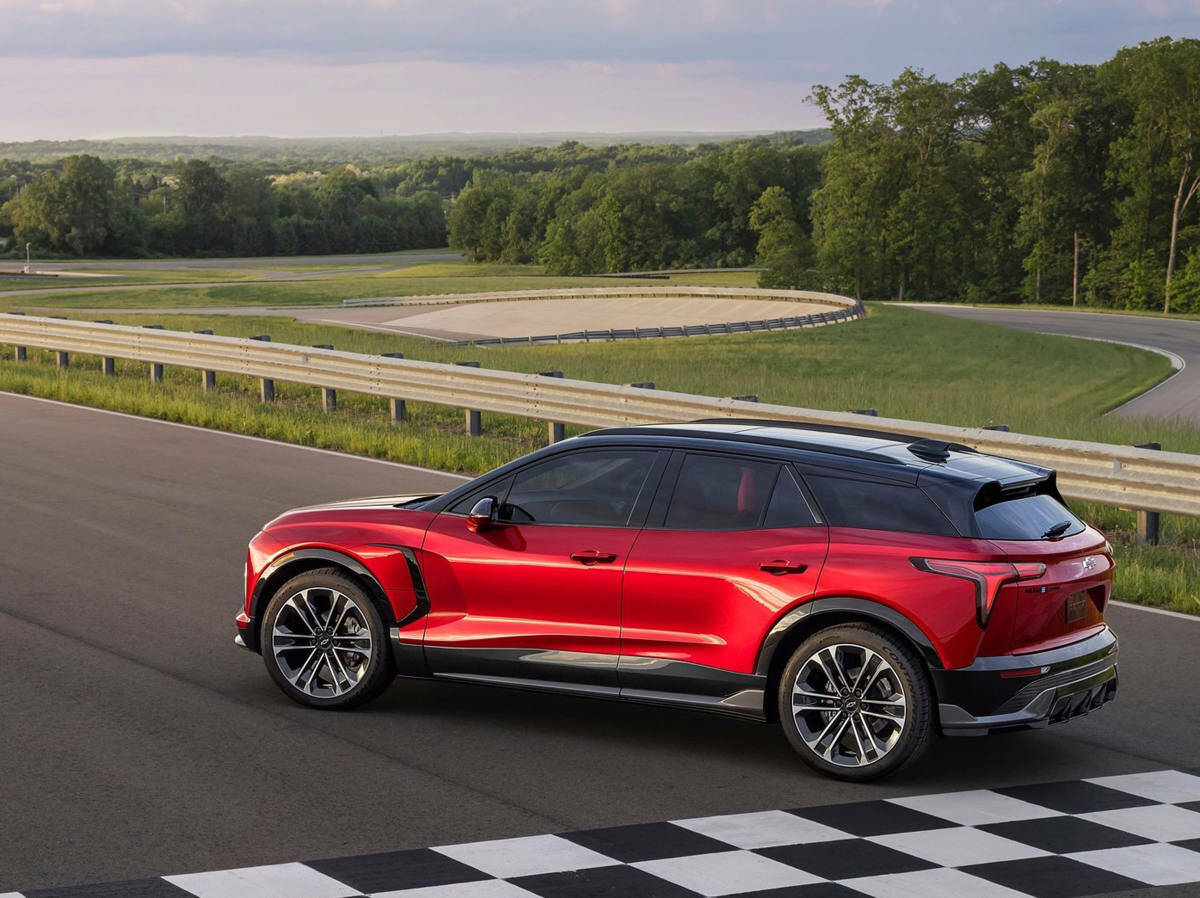 The RS, which begins at $63,300, is available in front-, rear-or all-wheel-drive. It is indeed unusual to offer front- or rear-wheel-drive, but this provides flexibility. For example, buyers in wintry areas could opt for front-wheel-drive over rear.
The RS's maximum range is rated at 510 kilometres, but that gets clawed back to about 465 kilometres for AWD variants.
Lastly, the performance-oriented AWD SS (starting at $83,000) is the only Blazer EV with a defined power output (so far), likely because it will be the first model to arrive. The 1LT is next in line and is scheduled to arrive in the first quarter of 2024.
The SS is rated at 557 horsepower and 648 pound-feet of torque. It's claimed to hit 60 mph (96 km/h) from rest in less than four seconds.
According to Chevrolet, for every 10 minutes plugged in to a 480-volt Level 3 DC fast charger (like you'll find at the dealership), power for 125 kilometres of range will be added to battery pack. With a 240-volt home charger, expect a full top-up overnight.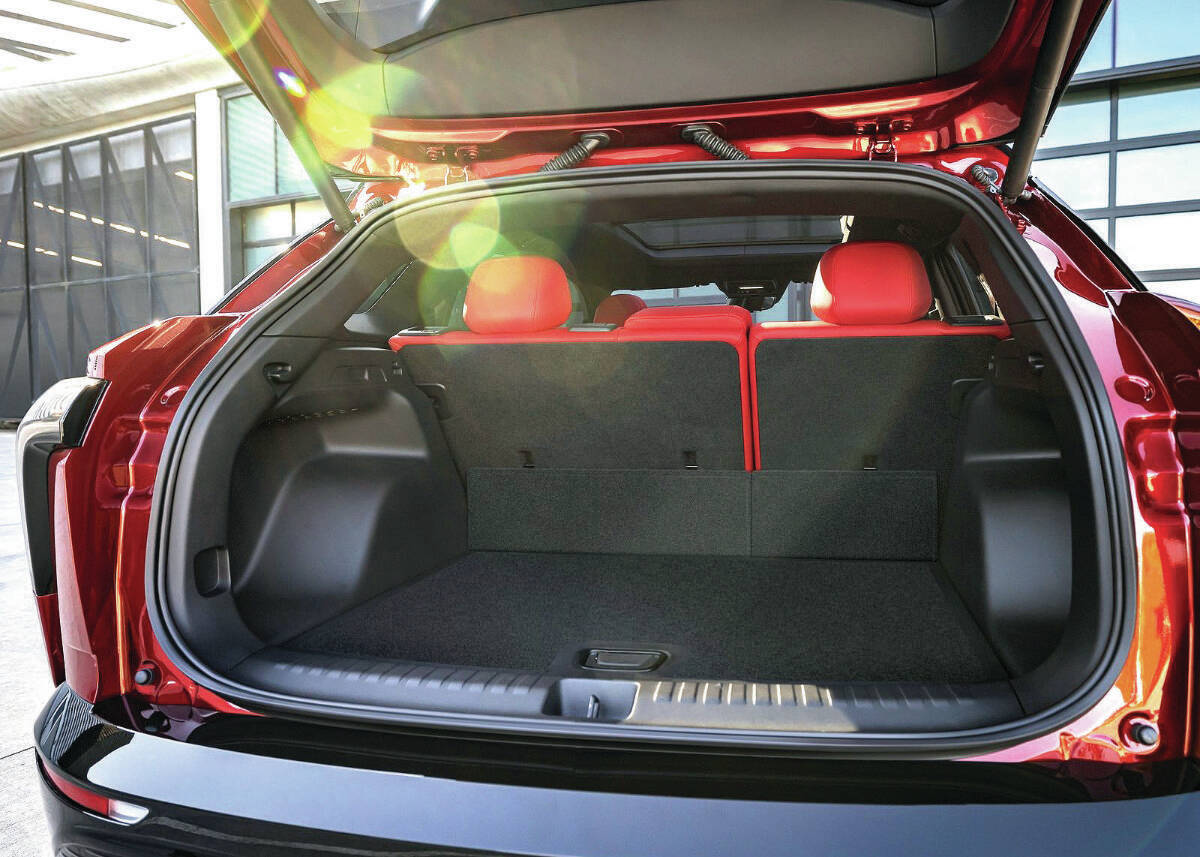 The RS and SS come with heated and ventilated front seats, heated flat-bottom steering wheel and a hands-free power liftgate. Both trims also have exterior lighting between the grille and the hood that illuminates when the driver approaches, and then shuts off when walking away.
Exclusive to the SS is a head-up info display (which projects information onto the windshield) for the driver, a rear-view camera/mirror, Brembo-brand front brakes, premium-grade interior trim and unique 22-inch wheels (19-inch wheels are standard and 21-inch versions are fitted to the RS).
Standard for the SS is the latest version of General Motors' Super Cruise system that allows hands-free driving on more than 400,000 miles (640,000 km) in the United States and Canada. This is recently double from 200,000 miles (320,000 km).
With Super Cruise, Chevrolet says the Blazer can safely overtake slower-moving traffic and return to the original lane, all without driver involvement.
Chevrolet has stated it is creating a Police Pursuit Vehicle (PPV) model based on the SS, which, given its output, likely makes the most sense.
The Blazer EV is one of the most ambitious of GM's electric-vehicle offerings. Given its size, styling, output and trims, the all-purpose approach should produce plenty of buyer interest and greater public acceptance of electrics.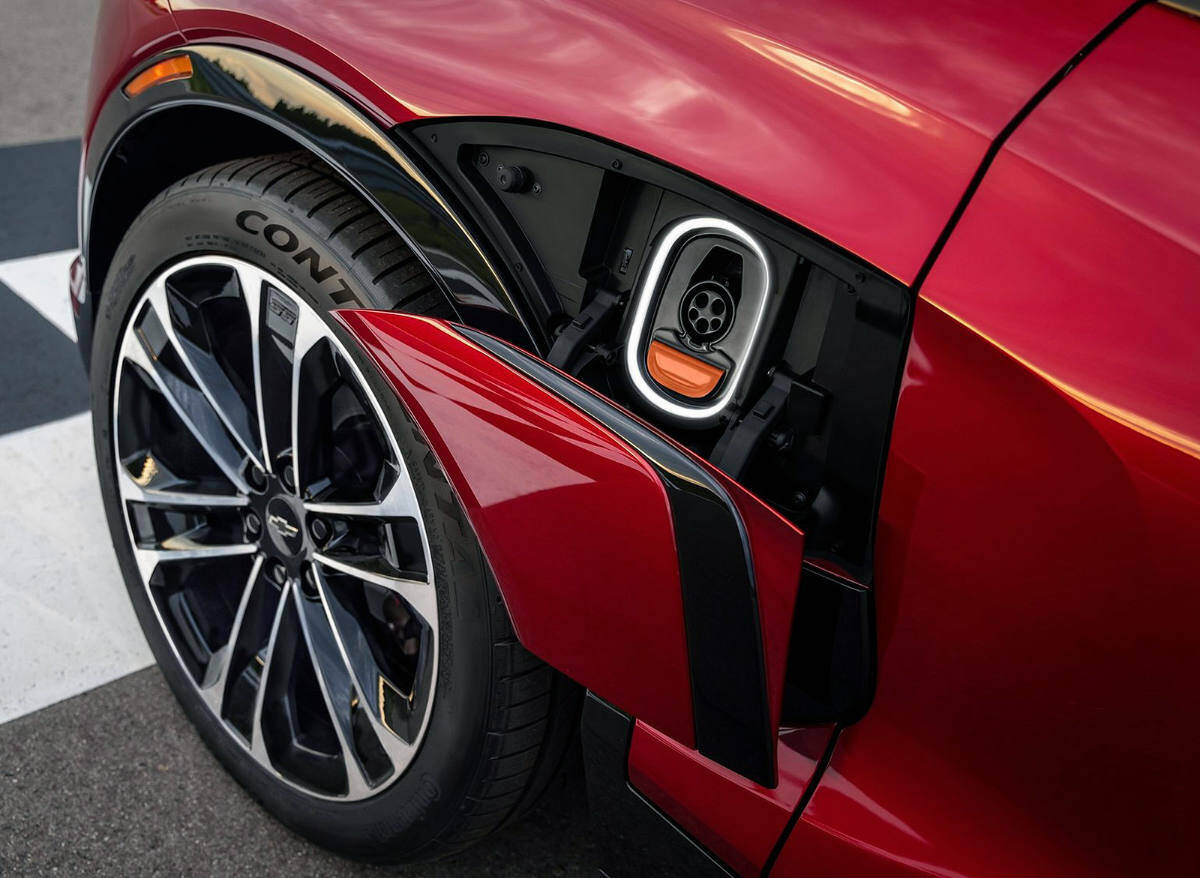 What you should know: 2024 Chevrolet Blazer EV
Type: Front- /rear- /all-wheel-drive midsize utility vehicle
Motors (h.p.): Single and dual electric (up to 557, SS)
Transmission: Single-speed controller
Market position: The Blazer EV is Chevrolet's all-purpose electric utility vehicle, designed to attract a wide swath of buyers, from the budget-conscious to the more performance oriented, plus those focused on range.
Points: Styling represents a major departure/upgrade over the gasoline models. • Interior is dominated by driver and infotainment screens. • Output for base and midrange power systems hasn't been revealed; maximum-output model offers plenty of thrust. • Battery ranges appear to be at least adequate, even for base model. • Base price is appealing but maxes out on the high side.
Active safety: Blind-spot warning with cross-traffic backup alert (std.); active cruise control (std.); front and rear emergency braking (std.); inattentive-driver alert (std.); lane-departure warning (std.); pedestrian warning (std.)
l/100 km equivalency (city/hwy): n.a.
Base price (incl. destination): $54,000 (less govt. rebates)
BY COMPARISON
Ford Mustang Mach E
Base price: $59,200
As with the Blazer EV, the Mach E comes in a number of strengths.
Subaru Solterra
Base price: $53,000 (est.)
All-wheel-drive utility comes with a 365-kilometre range.
Volkswagen ID.4
Base price: $46,000
Rear- and optional all-wheel-drive EV offers up to 450 kms of range.
– written by Malcom Gunn, Managing Partner at Wheelbase Media
If you're interested in new or used vehicles, be sure to visit TodaysDrive.com to find your dream car today! Like us on Facebook and follow us on Instagram